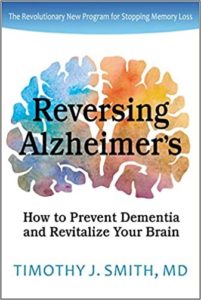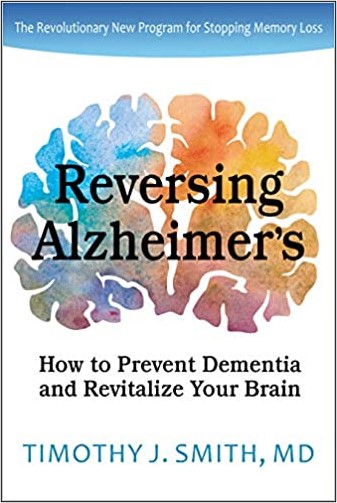 You Can Reverse Alzheimer's! We are no longer at the mercy of our DNA. The recent discovery of epigenetics—the science of understanding how to control the expression of our own genes—has given us the exciting new power to make conscious choices that reprogram our genetic destiny. In Reversing Alzheimer's, Dr. Timothy Smith shows you how to apply this new science to improve cognition and reverse Alzheimer's disease. Now, whether you have a healthy, dementia-free brain is completely up to you. In Reversing Alzheimer's you will learn
How to enhance the brain's the ability to grow, heal, and adapt
Which foods, herbs, vitamins, and minerals nourish your brain 
How intermittent fasting can dramatically lower your risk of dementia 
Which fats destroy the brain and which heal it. Reversing Alzheimer's will empower you to turn on the epigenetic control of genes that prevent—and even reverse—Alzheimer's disease. 
Praise for Reversing Alzheimer's
"It is the dawn of the era of treatable Alzheimer's and pre-Alzheimer's—after more than a century of failure, reports are appearing documenting success after success. Reversing Alzheimer's by Dr. Timothy Smith provides clear explanations of the disease mechanisms and a practical, useful approach to combat this scourge. I recommend this book wholeheartedly."
—Dale Bredesen, MD, author of the New York Times bestseller The End of Alzheimer's
"In his wonderful new book, Dr. Timothy Smith emphasizes that you are your own best healthcare advocate when it comes to staving off Alzheimer's disease. He reminds us that the choices we make every day about our lifestyle will play a huge role in determining the fate of our future brain health. More importantly, he expertly guides us on how to make those choices!"
—Rudolph E. Tanzi, PhD, Joseph P. and Rose F. Kennedy Professor of Neurology, Harvard Medical School and New York Times bestselling coauthor of The Healing Self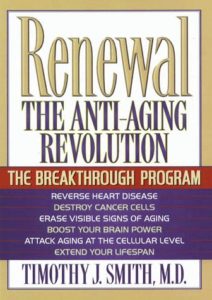 An expert in alternative medicine introduces a program that combats the effects of aging, explaining how to reduce the common problems of aging through nutrition, supplements, natural hormones, and exercise.